Make Every Ask Count
Abacus™ Major Donor Ask Calculator picks up where philanthropic capacity estimates and other donor research leave off so you can calculate Asks that you can count on. The Ask Calculator analyzes bias-free donor data specific to your organization to predict pledges.  Using human intelligence, Abacus allows you to confidently make bold yet respectful Asks that will lead to maximum pledges.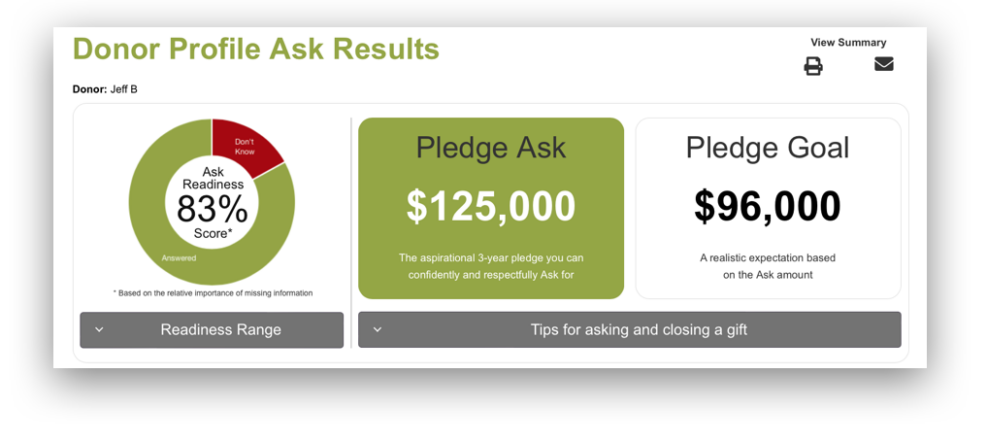 Intuitive. Proven. Credible.
The Ask Calculator uses a methodical, intuitive, and proven process that normalizes philanthropic capacity estimates and computes bias-free donor data relevant to your organization. The result is a credible 3-year pledge Ask amount and guidance on your readiness to make a request.
Accurate within
2%
of predicting Actual Pledges¹
Validated by
>400
advancement officers²
Used and valued for over
5 Years
by private clients
¹Based on the median of cumulative results. Individual results will vary.
²Validated over eight years using two donor case studies to be within 5% of advancement officers' median Ask responses that wildly varied from $25,000 to $250,000 and  $155k to $2.95M, respectively.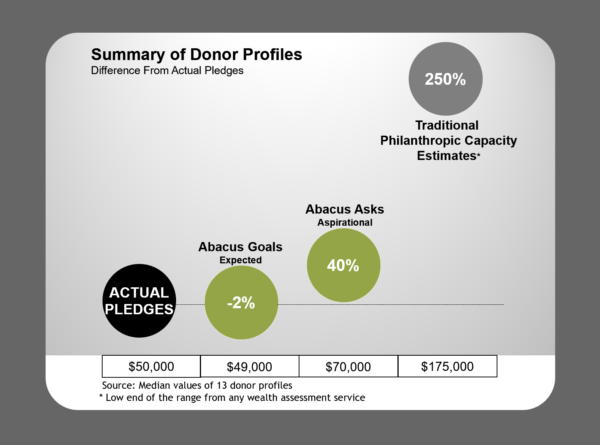 Real-World Outcomes
Abacus aspirational Asks and expected Goals are credible, accurate and predictive of Actual Pledge outcomes.
The Ask Calculator normalizes traditional wealth service philanthropic capacity estimates that often have wide variability.
Abacus Major Donor Ask Calculator was created by Larry Raff, President of Copley Raff Inc. Larry has over 40 years serving as a front-line advancement executive and consultant. He has worked with more than 200 nonprofit organizations and as counsel to campaigns from $2M to $200M.
The Ask Calculator was born out of the Master Gift Officer™ program, which improves the quality and professionalism of advancement executives and is credited with providing transformational insights that vastly improve major gift performance.
"Abacus is the solution that picks up where wealth estimates leave off, to give me Asks that I can count on." Melissa Kogut, VP of Development, Riverside Community Care, MA
"I am not easily impressed; Abacus is incredibly accurate and amazing. I recommend it to anyone engaging in a campaign or working in major donor fundraising." Lauren Dorn-Jones, Senior Development Officer, Cambridge Health Alliance Foundation, MA
"I am amazed! The wealth estimate was not particularly helpful in this situation, but Abacus literally suggested almost the exact 7-figure amount the donor gave to the Center." Natalee Martin, VP of Development, Seacoast Science Center, NH
"At last, there is a reliable process for fundraisers to determine Asks and predict campaign feasibility! We are eager to use Abacus with our nonprofit clients to maximize their major donor fundraising and campaign outcomes." David Garamella, Founder and CEOof The Giving Collaborative
Abacus Now!
Major Donor Ask Webinars
Live Experts Share Experience & Wisdom
How to Speed Up Finding Relationships Between Your Stakeholders and Donor Candidates
How to Build Your Major Donor Pipeline
How to Make the Most from Donor Philanthropic Capacity Estimates
How to Remove Personal and Volunteer Bias from Major Gift Ask Estimates
No event found!
Select nonprofits and consultancies that Make Every Ask Count!